RAEng ERA Enterprise Fellow 2022
Will Dubin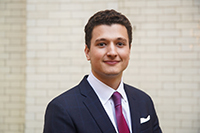 There are around 23 million manholes in the UK's 587,000 km long wastewater network, long enough to circumvent the globe 14 times. The network is subjected to over 300,000 blockages and almost 40,000 floods per year, and UK water regulator OFWAT enforced £110 million in related penalties this past year alone.
Flooding is only set to increase, as a result of climate change, urbanisation, and the ageing of existing infrastructure. It causes not only environmental damage but also results in financial, social and health consequences. Water companies currently react in a highly responsive manner due to a lack of sensors and analytics. This is a sub-optimal approach which comes with high operational costs and consequences including regulatory fines.
Having fallen victim to a wastewater flood himself, Will Dubin founded ManholeMetrics, a start-up on a mission to stop flooding. ManholeMetrics are developing sensors and analytics to enhance oversight of the UK's wastewater networks. It provides low-cost, long-life, and easy to install sensors for monitoring wastewater levels. Such sensors, which can be deployed in sufficiently high quantities, combined with real-time and predictive alerts, enable proactive flood management – that is, the ability to act before it is too late to prevent flooding and the associated damage. ManholeMetrics is supported by Thames Water, Yorkshire Water and National Highways.
The company is currently testing their third prototype and will be deploying a number of sensors for field trials with Yorkshire Water in the coming months. With the recently obtained support of the Royal Academy of Engineering, alongside that of the ERA Foundation and the 1851 Royal Commission, the ManholeMetrics team will continue to develop the business, increasing their deployments across the UK and further afield.
Will is the founder of ManholeMetrics. He is a passionate innovator and entrepreneur at heart and is an Enterprise Fellow of the Royal Academy of Engineering and the 2021 Mayor's Entrepreneur for tech amongst other entrepreneurial accolades. Will has worked on the Tideway Tunnel Super Sewer and the M4 Smart Motorway with Vinci Construction Grands Projets in addition to working on Crossrail and with Etandex, a French specialist sewage contractor. He completed a masters of Civil Engineering at Imperial (with Distinction), where he led the Civil Engineering Society and co-founded the IEA. ManholeMetrics is at the intersection of his interests of civil engineering, entrepreneurialism and innovation.