RAEng ERA Enterprise Fellow 2020
Joe Sherwood

As a team of designers, engineers and cyclists based in Cambridge, UK, we've been inspired by the amazing cycling culture of our city. We love the way that cycling makes our cities more human and connected, and the sense of freedom it gives you.
Dave and Alex (co-founders) met in 2015 whilst studying in Beijing. Electric bikes were their favourite way of zipping between lectures, being such a fast and fun way of getting round, it sparked their interest in ebikes. Dave, as an ex Jaguar Landrover engineer, had always dreamed of developing an electric vehicle, whilst Alex's vision was to help make our cities happier and healthier places to be. Together, they wanted to create a product that made city travel effortless, whilst fitting neatly into your lifestyle.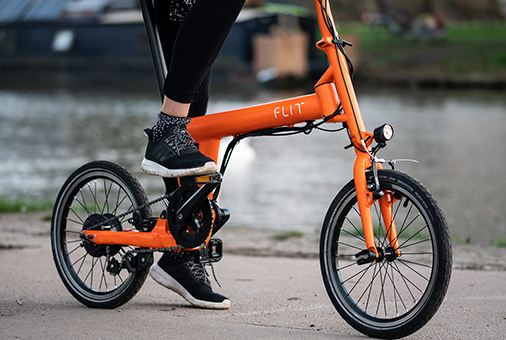 They relocated to the cycling capital of the UK to begin the Flit story, designing our folding electric bike from a blank sheet of paper. Over the past 3 years we've turned our pencilled sketches into a simple folding ebike: the beauty being that you can't even tell that it's electric. The fold gives you the flexibility to take it with you anywhere, whilst adding electric makes journeys effortless, fast and fun.
Follow Flit:
Facebook: @FlitBike
Instagram: @FlitBike
Twitter: @FlitBike
Youtube: @FlitBike